iXsystems Storage and Servers
LEADERS IN OPEN SOURCE STORAGE

Open Source contributes to a fair and just world by enabling organizations and individuals to access leading technology platforms without having to invest in software licenses. As custodians of the Open Source TrueNAS (formally FreeNAS) project, iXsystems has built a storage ecosystem that is unparalleled in features and reliability, and is accessible to all without restriction. For enterprises, iXsystems offers storage hardware that can support up to 20 PB and a management console, "True Command" which is second to none.
Thousands of companies, universities, and government organizations rely on iXsystems' storage, servers, and customer-first commitment to excellence. Thousands more have benefited from iXsystems' contribution to open source paving the way for a new era powered by open technology.

TrueNAS and OpenZFS
The Zettabyte File System (ZFS™) was developed by Sun Microsystems 2006 and released to the open source community as part of the Open Solaris initiative. After the acquisition of Sun Microsystems by Oracle™, engineers from Sun founded the OpenZFS™ project to provide continued development and support for the product.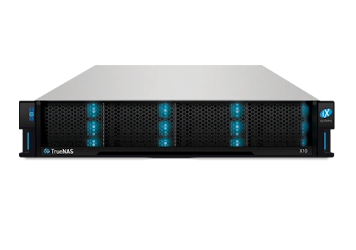 The benefits of ZFS are significant:
Virtually limitless capacity and scalability
Copy-on-Write architecture for data safety and efficient snapshotting
Integrated software-defined RAID with checksums and validation
High-performance transparent compression and inline deduplication
Native encryption at the disk, pool, or dataset level
Integrated Read and Write caching with options for all-flash and hybrid pools
Integrated with FreeBSD, Linux, and many other operating systems
TrueNAS builds on the power of ZFS creating a comprehensive data sharing and management system that delivers a unified file, block, and object storage on top of ZFS.
With over 1 million installations, TrueNAS is the most widely deployed ZFS-based storage system.
ASIGRA TRUENAS™
With the Asigra TrueNAS, the backup system can be deployed as an integrated service on TrueNAS. You can now host enterprise data backup, serve SMB shares, NFS exports, iSCSI mounts, S3 shares, and much more, all from the same TrueNAS system.  Asigra TrueNAS provides simple-to-deploy and easy-to-manage backup services for Managed Service Providers and enterprises. TrueNAS also supports easy high-availability configurations through a single management platform.